During the warm and sunny June, head to Myrtle Beach and enjoy the Carolina Country Music Fest! The festival occurs in June each year and features some of the biggest names in country music. You'll be in the middle of Myrtle Beach and all the beach activities you'll need! This blog will explore general information about the festival, what to expect, and where to stay! For even more Myrtle Beach area must-dos, download our Vacation Guide! Inside, you'll find all the top attractions and activities, from restaurants to top local shopping and everything in between. Now, let's explore this fun annual Myrtle Beach festival!   
Request Your North Myrtle Beach Vacation Guide 
Your Guide to the Carolina Country Music Fest
About the Festival
The Carolina Country Music Festival takes place every June. The weather is warm, the music is excellent, and the memories will last a lifetime. Each year, the lineup features the hottest names in country music, and they are sure to put on a show you won't forget! The festival is the largest outdoor country music festival on the east coast and offers easy access to activities in the heart of Myrtle Beach. Review their website for more information about this incredible festival!  
Where exactly is the festival? 
The festival is located on the Myrtle Beach Boardwalk; you will enjoy being right on the beach and taking in the stunning views of the ocean while sipping on a cold beer! The festival is at 812 N Ocean Blvd, Myrtle Beach, SC, 29577. Be sure to review the parking and transportation page for information on where to park and how to get around Myrtle Beach!   
What can I bring to the festival?
Knowing what you can bring to the festival is essential! Festivals are all about having the right items for a fun and relaxing experience! Carolina Country Music Fest has a page covering all your questions regarding what you can bring onto festival grounds and the guidelines you need to know.   
On-site Activities
In addition to listening to some great musicians, the festival also has plenty of on-site activities to enjoy during the three-day event. They answer all your questions, from getting your gear together for theme nights to a guide on using cashless payments while attending the event. Before you know it, you'll have a festival itinerary ready to go!  
Stay Nearby with Vacation Rentals of North Myrtle Beach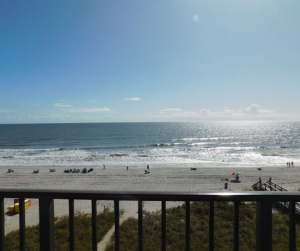 At VRNMB, we offer our guests enjoy some of the best accommodations in North Myrtle Beach! Our rental homes offer all of the comforts of a home for any budget level. Whether you're looking for a cozy condo or a spacious rental home, we have it! Also, review our amenities for added comfort. Indoor pools, pet-friendly rentals, oceanfront rentals, and more are available! Before heading to the festival, check out our Myrtle Beach Boardwalk blog for more local landmarks to try. We can't wait to see you at the Carolina Country Music Fest!  
Browse a complete inventory of our North Myrtle Beach vacation rentals to start planning your trip!