In a recent blog, we discussed signature southern foods and where to find them on the Grand Strand. While truly tasty, the list was comprised entirely of savory dishes — with the exception of sweet tea, of course. With Halloween on the horizon, it's time we explore the sweetest side of the beach, with the tastiest sweet treats on the Grand Strand!
Let Them Eat Cake
For a taste of the sweet life, stop by Crumb Buns Bakery in North Myrtle Beach, where cupcakes are $1 every Tuesday! Try the Southern Coconut Cupcake. It's moist with just the right amount of sweetness. On the south side of town, you'll find Coccadots Cake Shop, three time contestant and winner of Food Network's Cupcake Wars in 2013. This little shop offers a variety of creatively decorated cupcakes, with unique flavors like Butterbeer and Caramel Dipped Apple.
---
I Want Candy
While strolling the shops at Barefoot Landing or Broadway at the Beach, you'll find a number of sweet candy shops, including the Fudgery, Wee R Sweetz, and IT'SUGAR. Be sure to stop by River Street Sweets to try their world-famous Pecan Praline and Southern Living Magazine award-winning Fudge. Craving more sugar? Sugar Life is a huge candy bar with three Grand Strand locations. Or stop by The Uncommon Chocolatier at The Market Common in Myrtle Beach for decadent handmade chocolates.
---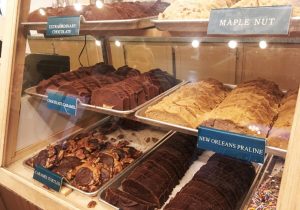 We All Scream For Ice Cream
Looking for handcrafted ice cream during your Grand Strand vacation? There are a number of tasty ice cream parlors to try, like the Crafty Cow and Sweet Molly's Creamery at Barefoot Landing, or Kilwins at Broadway at the Beach. Also in North Myrtle Beach are The Original Painters stand and Melt, which was recently named the Best Ice Cream in South Carolina by Food & Wine. Or try the homemade gelato at the newly opened Café Gelato in Myrtle Beach!
---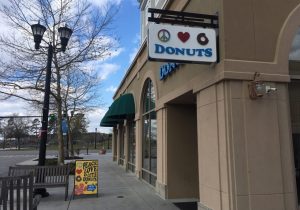 Mmmmmmm…. Donuts
If you crave warm, freshly made donuts, the Grand Strand has you covered! Some of these donut shops, like Duck Donuts, are made to order. You can pick your own toppings for a custom donut creation with endless combinations! We recommend the popular Maple Bacon at Peace, Love and Little Donuts at the Market Common.
This is just a small sampling of the many wonderful Grand Strand establishments offering satisfyingly sweet treats, like the Key Lime Pie with a delightful pecan crust from Croissants Bakery or Ohana Hawaiian Shaved Ice.  But you can't try any of them if you aren't here! For a sweet place to stay this fall, contact Vacation Rentals of North Myrtle Beach, and ask about our specials. And keep sharing those Grand Strand family vacation pics! All you have to do is tag us @ Vacation Rentals of NMB or use #vacationrentalsofnmb for a chance to be featured on our site.
The sea, the sun, and the Grand Strand! Vacation Rentals of North Myrtle Beach, LLC, is a premier, full-service, licensed property management company in North Myrtle Beach, SC. Whether you are booking a reservation for your vacation or entrusting us with the management of your property, our professionally trained staff will ensure that all the details of renting the property are handled in a pleasant, stress-free manner. Call us today at 888-488-8588!
Myrtle Beach Barefoot Resort, a division of Vacation Rentals of North Myrtle Beach, is just a hop skip and jump away from the beach and beautiful Barefoot Landing, and was built with golf in mind with four of the most amazing golf courses in the area. When planning your vacation getaway, Myrtle Beach Barefoot Resort will help you make the most of your visit to the Grand Strand. Call us today at 800-548-9904! Call us today at 800-548-9904!